Diving across the Pacific – Be Part of Our Success!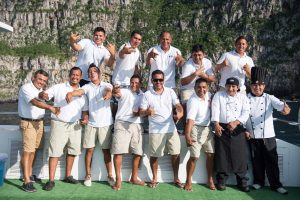 Delivered to you by Worldwide Dive and Sail, owners and operators of the Siren Fleet, we are constantly expanding our list of amazing dive destinations to provide you an unsurpassed live aboard diving experience. We are currently offering a range of 7 and 10 night experiences in Galapagos, Truk, French Polynesia, Bahamas, Red Sea and Maldives year round with many more superb diving destinations to follow!
Considered as one of the most experienced teams in the diving industry, Worldwide Dive and Sail is a forward-thinking, service-minded organisation that strives to provide you with the highest quality experience possible. We aim to continuously improve our services, standards and the quality of our operations across all of our fleets and brands. The quality of our staff is key to our success!
Join us! We constantly have new job opportunities!
Boat Manager (Destination Management, French Polynesia)
Summary
The Boat Manager liaises with the Captain and the Cruise/Diving Director to ensure our vessel French Polynesia Master is run in a way that guarantees that we provide an outstanding customer service. The Boat Manager is also responsible for all vessel administration such as crew documents and certificates, vessel permits, etc. and for the reporting to Head Office regarding all aspects of the operation including compliance, supplies and mechanica incidents.
Job responsibilities
Administration
Ensures the flow of information between the destination and other departments. This includes Reservations, Marketing and Procurement (for technical spare parts and consumables);
Reports as agreed on all aspects of the operations in his/her destination;
Handles, together with the Master and the Ground Support Officer, all paperwork related to the vessel, crew and guests. Ensures that all staff documentation, such as crew certifications, visa, permits and holiday planning are up to date, recorded and made available to other departments (HR, Travel);
Ensures, together with the Master and the Ship Management company, that all vessel registration, licenses, permits, insurances, manning certificates and other documentation crucial to our operations in the destination are constantly up-to-date and current;
Ensures that our operation is compliant with local laws and regulations;
Customer Service
Ensures that all guest requirements are addressed and the crew provides excellent service throughout all cruises;
Makes sure that the onboard environment is such that the guests can have a memorable cruise. This includes cleanliness, food & beverages, entertainment programme and excursions;
Handles, together with the Captain and Cruise/Diving Director any issues with guests or crew are dealt with in a professional and customer service focused manner;
Manages together with Diving/Cruise Director all onboard sales including merchandising, courses, beverages, gas mixes, equipment rental, massages, etc.;
Supplies
Oversees and manages the supply of food and beverage, non-food, fuel, stationery, First Aid supplies, etc. needed for any cruise;
Ensures the Ground Support Officer sources new products and ensures good business relationships with existing suppliers so as to guarantee the supply of the highest quality items at the most competitive prices.
Owns the inventory management processes in the destination, executes accurate regular and up-to-date inventory checks as directed and/or required;
Day-to-day Operations
Manages the day-to-day operations in the destination to the highest quality, achieving maximum guest satisfaction. Reports on the day-to-day operations to the Regional
Destination Manager as directed
Ensures all aspects of the running of the operations follow our quality standards while staying within allocated budgets. Suggest possible improvements of our service to maximise efficiencies or improve customer experience
Monitors all equipment and machinery onboard the vessel so as to be able to prevent major equipment related problems such as engine and generator failure, compressor problems, vessel damage or others. Ensures preventatives measures are taken so as to limit the occurrence of equipment-related incidents
Reports and records incidents to the Regional Destination Manager and plans and manages repairs as needed. Plans and assists in the execution of drydock, major overhauls and maintenance jobs
Handles any emergency situation in an efficient manner while following company standards and procedures, reports such emergencies with accuracy and takes initiative to improve the operations in his/her destination
Staff Management / HR
Participates, together with the Regional Destination Manager, the Master, the Ship Management company and the Diving Director in the recruitment of and management of the boat and dive crew;
Ensures at all time that all employees in the destination hold the correct paperwork, certifications, visas etc. needed to work in the destination
Skills, Competencies and Experience
Required
5 years experience in the diving industry;
3 years experience running operations in a very remote area;
3 years experience in a customer service role;
Strong organisational skills;
Strong problem solving abilities;
Experience in project management;
Preferred:
3 years experience managing a small resort or hotel;
3 years experience working in the liveaboards industry;
French speaking;
Marine engineering experience or knowledge
Closing date for applications: 31st of July 2018
Fleet Engineer (Destination Management, Phuket)
Summary
The main responsibility of the Fleet Engineer is to provide leadership and expert direction for all aspects of maintenance for the current and future company operated vessels, wholly owned or in a Joint Venture. This includes planning and scheduling for normal maintenance and major refit (dry dock) along with
assisting on any maintenance emergencies if they arise. The role has the responsibility to write and update, in cooperation with Central Ops coordinator Role, maintenance procedures and processes. The Fleet Engineer is responsible for managing the group of specialists who focus on maintenance for all vessels. The role is based in Phuket Head Office. The Fleet Engineer reports to the Managing Director Destination Management.
Job responsibilities
Cost control of maintenance budget set by the MDDM and BOD (Board of Directors). This includes, but is not restricted to, all aspects of the vessels
mechanic, engines, generators, water production, compressors, electronics, navigation, dive equipment, kitchen equipment, air-conditioning and any other equipment that is required to give the customers the best experience;
Working closely with the Regional Managers to assure communication flow and problem awareness is on the highest level;
While not responsible for the performance of the mechanic staff on board the vessels, the MMDM will be expected to provide subject matter expertise and assistance to the mechanical staff;
Manage the central maintenance team including "the Dream team". The MMDM is responsible for the efficiency and effectiveness of the central team;
Creating and maintaining maintenance schedules. The role is responsible for maintenance schedules and to ensure that proper reporting is done for all mechanical parts of the vessels as described in point (1);
In cooperation with Reservations department and Regional Destination Managers the creation of a maintenance and dry dock schedules for each vessel regarding extended and yearly maintenance;
Responsible for assessing work required for all vessels in dry dock, estimate cost and report to MDDM for approval;
Assist the Regional Managers and Finance team to create a yearly maintenance budget for each vessel. As part of this budget include the estimated cost of the central maintenance team (labour) for a specific vessel, including any travel or other significant expenses;
Procurement of spare parts and assuring that the right quality and quantity of spare parts is available for each vessel;
Executing two times per year performance reviews of Employees;
Scheduling and approving holidays of the maintenance team;
Create timesheets for work in destinations so that Finance can ensure that the appropriate costs are allocated to the right vessel.
Skills, competencies and experience
Finance literate;
5 years experience in a leadership role;
Experience in working with different cultures;
Strong organisational skills;
Experience as marine engineer;
Experience in creating maintenance schedules;
Experience as project managing;
Commitment to leading a transient life.
Prefered
Experience in the diving industry.
KPI's
Customer satisfaction rating for their experience in terms airconditionings and other mechanical devices the customer is in contact with are on or higher than agreed;
Maintenance cost are at or below budget;
Maintenance team cost are at or below budget;
Maintenance schedules and reports are in place and available at any time;
Maintenance schedules and reports are followed and on time;
Vessels don't have downtime due to maintenance problems;
Delivering maintenance on time and at agreed or below cost/budget;
Performance reviews are completed on time.
Working conditions
When on duty on a vessel or in dry dock, the working hours are those required forthe Fleet Engineer to achieve his/her objectives.
When in the office, the working hours are Mon to Fri – 9 to 5 unless the urgency of the workload requires different hours. This position requires up to 40% of the time away from Thailand HQ office at international destinations.
Emergency Situations – on call in line with crisis management guidelines.
HR Officer (Human Resources, Phuket)
Summary
The HR Officer is mainly responsible for the work permit and visa for WWDAS team members and for WWDAS training activity in collaboration with the Department Managers. The HR Officer is also responsible for the company events and team monthly gatherings. The HR Officer reports to the HR Manager and is based in Phuket Head Office.
Job responsibilities
Work permits and visa administration duties:
Is responsible for all the administration of work permits applications and renewal;
Is responsible for liaising with the foreign workers for the administration of their visa applications and renewal;
Training duties :
Manages training in collaboration with the Department Managers, research new opportunities and administers existing training platform such as Grovo or Lynda;
Works with the department managers for writing training manuals required by the various departments;
HR admin duties :
Manages WWDAS HR Management System including supporting staff members in its use, keeping manuals updated, etc.;
Assist the HR Manager with the day to day running of the HR department including preparation of administrative documents, benefits administration, salaries calculation and reports;
Supports the local offices in the administration of their HR;
Company events duties :
Responsible for the company events and monthly team gatherings.
Skills, competencies and experience
Minimum 3 years experience with work permits and visas;
Minimum 3 years experience in working in a multicultural environment;
Intermediate proficiency in MS Office and strong interest in new business applications;
Strong numeracy;
Excellent proficiency in English;
Strong attention to detail;
Strong planning abilities;
Excellent communication skills;
Strong interpersonal skills.
Working conditions
Monday to Friday from 09:00 to 17:00 with a 1-hour break.
Reservations Consultant (Sales & Reservations, Phuket)
Job responsibilities
Is responsible for and manages the entire booking process – from the initial inquiry to the sale, the invoicing and any necessary post-cruise follow-up – for his/her assigned destination;
Is responsible with the entire Reservations Team for the maintenance for the accurate upkeep of the entire booking system information at all times – including guests information, space availability and agents information;
Liaises with the Accounts Department for the issuance of correct invoices and any related transactions such as credit notes, refunds, etc.;
Ensures the transmission of information to the Central Operations Departments and the Local Operations Teams of all the necessary information so that the Operations Teams can deliver an outstanding service to our guests;
Carries out individual projects in line with the position as instructed.
Skills, competencies and experience
Only candidates with the following skills, competencies will be considered:
Intermediate to advanced computer skills;
Excellent command of spoken and written English;
Organizational skills;
High level of attention to detail;
Highly customer service minded;
Ability to follow process;
Excellent communication skills;
Ability to work independently as well as within a team;
Ability to work with deadlines;
Candidates with the following experience will be preferred:
– 2 years experience working in Reservations or in the Travel industry.
– University degree or minimum vocational diploma.
Working Hours
Monday to Friday from 10:00 to 18:00 with extra Saturdays to be worked (with daily pay) based on a rotating schedule from 09:00-17:00 with a 1-hour break.
 Please send your application with full CV (resume) and photo to employment@wwdas.com
We will endeavor to respond to each application in turn, however, due to the high volume of applications we receive, only those who meet the above listed requirements for each role will be guaranteed a response.
Good Luck!