Diving across the Pacific – Be Part of Our Success!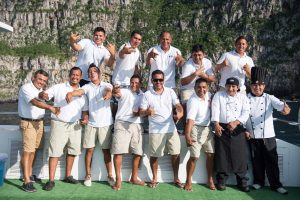 Delivered to you by Worldwide Dive and Sail, owners and operators of the Siren Fleet, we are constantly expanding our list of amazing dive destinations to provide you an unsurpassed live aboard diving experience. We are currently offering a range of 7 and 10 night experiences in Galapagos, Truk, French Polynesia, Bahamas, Red Sea and Maldives year round with many more superb diving destinations to follow!
Considered as one of the most experienced teams in the diving industry, Worldwide Dive and Sail is a forward-thinking, service-minded organisation that strives to provide you with the highest quality experience possible. We aim to continuously improve our services, standards and the quality of our operations across all of our fleets and brands. The quality of our staff is key to our success!
Join us! We constantly have new job opportunities!
Cruise Director – Truk Master
Summary
Cruise Director is a key member of crew taking care of all the guest service aspects of our cruises. S/he is instrumental in ensuring our guests are provided with once in a lifetime experience. A strong passion for technical diving and diving the most sought after wreck diving spots such as Chuuk Lagoon and Bikini Atoll is required.
Job responsibilities
Detailed responsibilities include but are not limited to:
● Diving duties:
– Aim to deliver our guests with the diving experience of their lifetime in terms of quality, safety and fun while following Siren Fleet's standards, guidelines and procedures;
– Ensure any diving emergency situation is handled following Master Liveaboards' procedures or any other medical emergency – this is especially important considering Truk Master's tec diving activities.
● Customer service duties:
– Be the main communication link between the guests and the crew to ensure that our guests are provided with the best experience possible;
– Ensure that the cleanliness of the vessel is maintained up to the Master Liveaboards' standards;
– Work with the Captain to encourage and/or coach the crew to deliver the customer service expected on all Master Liveaboards' vessels;
– Be solely responsible for the sales of merchandising items.
● Administrative duties:
– Ensure the Destination Manager is provided all needed information in order to provision and maintain the vessel in a way that the guests are able to enjoy the Master Liveaboards' experience;
– Handle all payments/paperwork/reporting at the end of each cruise.
Skills, competencies and experience
Only candidates with the following skills/competencies/experiences will be considered:
● Minimum 1 years working on liveaboard
● Passion for wreck diving
● Experience in working with different cultures and nationalities
● Previous posting in a remote Pacific destination
● Certified to blend partial pressure mixes (Nitrox and Trimix)
● Ability to plan and lead multi group diving (Tec/recreational/rebreather)
● Ability to manage inventories, trip reports, logs and associated paperwork
● Fluency in English
Candidates with the following skills/competencies/experiences will be preferred:
● Basic STCW
● Rebreather qualified;
● Technical diving certification (PADI or other)
Interested candidates can send a CV and proof of all certifications to employment@wwdas.com
Only shortlisted candidates will be contacted
Closing date for applications: 15th of April 2018
Executive Assistant
Summary
The Executive Assistant (EA) enhances the Directors' effectiveness by providing accurate information, management support and representing the Directors to others. He/she will provide
meticulous administrative and organisational support in the Directors' daily schedule and in the Directors' long term objectives.
The EA will have an extensive knowledge of the WWDAS organisation, its aims and objectives, so as to be the first point of contact for both internal and external stakeholders.
Job responsibilities
● Read and analyze incoming memos, submissions and reports to determine their significance and plan their distribution;
● Prepare corporate documents and briefs;
● Record, type and distribute meeting minutes;
● Is instrumental in organising the Directors' schedules, agendas and calendars;
● Carries out any research and studies relevant to the organisation's activities;
● Assists the Directors with presentations, meetings preparation, reports and documents;
● Is the point of contact between the Directors and managers/staff members;
● Identify the needs of the Directors and proactively address these needs;
● Uphold a strict level of confidentiality;
● Liaise with the Travel department to arrange travel, visas and accommodations for the
Directors;
Skills, competencies and experience
Only candidates with the following experience/skills/competencies will be considered:
● Previous experience in a similar position;
● Communication skills
● Interpersonal skills
● Exceptional organisational skills
● Ability to work independently
● Advanced computer, Google Apps and Microsoft literacy;
● Proactivity
● Excellent listening skills
Candidates with the following experience/skills/competencies will be preferred:
● Familiarity with online calendar, messaging application and cloud systems
Reports to:
Chief Operating Officer
Working hours:
Monday to Friday – 9 am to 5 pm. However due to the managerial nature of the role and the business, the successful candidate is expected to perform some irregular working hours.
Reservations Consultant
Job responsibilities
Is responsible for and manages the entire booking process – from the initial inquiry to the sale, the invoicing and any necessary post-cruise follow-up – for his/her assigned destination;
Is responsible with the entire Reservations Team for the maintenance for the accurate upkeep of the entire booking system information at all times – including guests information, space availability and agents information;
Liaises with the Accounts Department for the issuance of correct invoices and any related transactions such as credit notes, refunds, etc.;
Ensures the transmission of information to the Central Operations Departments and the Local Operations Teams of all the necessary information so that the Operations Teams can deliver an outstanding service to our guests;
Carries out individual projects in line with the position as instructed.
Skills, competencies and experience
Only candidates with the following skills, competencies will be considered:
• Intermediate to advanced computer skills;
• Excellent command of spoken and written English;
• Organizational skills;
• High level of attention to detail;
• Highly customer service minded;
• Ability to follow process;
• Excellent communication skills;
• Ability to work independently as well as within a team;
• Ability to work with deadlines;
Candidates with the following experience will be preferred:
2 years experience working in Reservations or in the Travel industry.
Working Hours
Monday to Friday from 10:00 to 18:00 with extra Saturdays to be worked (with daily pay) based on a rotating schedule from 09:00-17:00 with a 1-hour break.
 Please send your application with full CV (resume) and photo to employment@wwdas.com
We will endeavor to respond to each application in turn, however, due to the high volume of applications we receive, only those who meet the above listed requirements for each role will be guaranteed a response.
Good Luck!