Diving across the Pacific – Be Part of Our Success!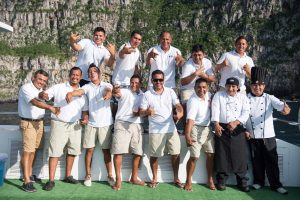 Delivered to you by Worldwide Dive and Sail, owners and operators of the Siren Fleet, we are constantly expanding our list of amazing dive destinations to provide you an unsurpassed live aboard diving experience. We are currently offering a range of 7 and 10 night experiences in Galapagos, Truk, French Polynesia, Bahamas, Red Sea and Maldives year round with many more superb diving destinations to follow!
Considered as one of the most experienced teams in the diving industry, Worldwide Dive and Sail is a forward-thinking, service-minded organisation that strives to provide you with the highest quality experience possible. We aim to continuously improve our services, standards and the quality of our operations across all of our fleets and brands. The quality of our staff is key to our success!
Join us! We constantly have new job opportunities!
Travel Officer – Destination Management
Summary
The Destination Management Travel Officer supports the Destination Management team and manages crew, suppliers and DM staff travels by administering and coordinating all the travel required in a cost-effective way.
In addition to the daily travel duties, the Destination Management Travel Officer will support the rest of the team on the administrative tasks. He/she reports to the Destination Management Coordinator.
Job responsibilities
Detailed responsibilities include but are not limited to:
Administration
● Is the first point of contact in the Phuket office for the Destination Management staff and supplier travel movements;
● Deals in a cost-effective and fast way with all the requests and ensure this information is properly recorded;
● Supports suppliers and crew with all necessary paperwork for visa applications;
● Supports the Destination Management Phuket office team in the day-to-day running;
● Maintains proper records of all staff travels and update the destination teams with all upcoming movements;
● Arranges flights, land transfers and hotel accommodation for Destination Management staff and suppliers if needed.
Development of the travel activities
● Work on facilitating payments and sourcing of the best possible rates;
● Works with HR and destinations on implementing planning for crew travel;
● Develop visibility and reporting on travel costs for the entire department;
● Complies with international and local regulations, standards and best practices;
● Negotiates contract terms and nurtures the relationships with core suppliers;
● Assist DM and HR in developing adequate processes for crew deployments
Key Performance Indicators
● Cost Management – costs are optimized with a 5% saving for 2019 YTD;
● Travel is booked without mistakes at the best prices possible and crew movements will need to be planned in an effective and smooth way;
● Destinations are informed in due time of all staff arriving/departing;
● Payment facilitation in place;
● A system is in place and maintained to record and keep track of all Destination Management travels including financial data.
Competencies, skills and experiences
● Strong attention to detail;
● Ability to strictly follow processes;
● Strong organisational skills
● Ability to work independently;
● Strong email communication skills
Preferred
● Experience in a travel related position
Working hours
Working Hours: Monday to Friday from 10:00 to 18:00 with 1-hour break and extra Saturdays (via remote managing) to be worked based on a rotating schedule.
Closing date:
6 April 2019
Reservations Consultant (Sales & Reservations, Phuket)
Job responsibilities
Is responsible for and manages the entire booking process – from the initial inquiry to the sale, the invoicing and any necessary post-cruise follow-up – for his/her assigned destination;
Is responsible with the entire Reservations Team for the maintenance for the accurate upkeep of the entire booking system information at all times – including guests information, space availability and agents information;
Liaises with the Accounts Department for the issuance of correct invoices and any related transactions such as credit notes, refunds, etc.;
Ensures the transmission of information to the Central Operations Departments and the Local Operations Teams of all the necessary information so that the Operations Teams can deliver an outstanding service to our guests;
Carries out individual projects in line with the position as instructed.
Skills, competencies and experience
Only candidates with the following skills, competencies will be considered:
Intermediate to advanced computer skills;
Excellent command of spoken and written English;
Organizational skills;
High level of attention to detail;
Highly customer service minded;
Ability to follow process;
Excellent communication skills;
Ability to work independently as well as within a team;
Ability to work with deadlines;
Candidates with the following experience will be preferred:
– 2 years experience working in Reservations or in the Travel industry.
– University degree or minimum vocational diploma.
Working Hours
Monday to Friday from 10:00 to 18:00 with extra Saturdays to be worked (with daily pay) based on a rotating schedule from 09:00-17:00 with a 1-hour break.
 Please send your application with full CV (resume) and photo to employment@wwdas.com
We will endeavor to respond to each application in turn, however, due to the high volume of applications we receive, only those who meet the above listed requirements for each role will be guaranteed a response.
Good Luck!