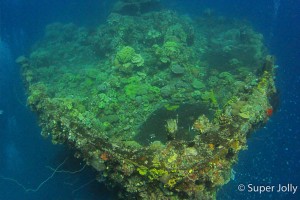 Fujikawa Maru – The armed cargo ship rests upright on the sandy bottom at 34m (110ft), rising up to 5m (15ft). She is one of the largest vessels at over 130m (430ft) in length giving plenty to explore. Decks are encrusted with corals as are her guns on the aft deck, whilst 6 holds contain a plethora of artifacts from the war, including Mitsubishi aircraft wings and Zero fighter propeller blades.
Fumitsuki – The Japanese destroyer sits upright in 38m (130ft) of water and is covered with corals attracted a wide variety of marine life. Her upper deck is at 21m (80ft) allowing recreational divers of advanced level plenty of opportunity to explore the wreckage.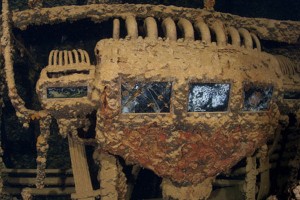 Shinkoku Maru – A large oil tanker, now rests upright on the bottom encrusted with corals, sponges & hydroids. From the bridge you can see into the engine room whilst the galley still holds many utensils on the large stove. Small guns, mounted fore and aft are also covered with corals making this one of the most colourful and spectacular wrecks to be found in Truk.
Nippo Maru – With a depth range of 24m – 42m (78ft-137ft) the Nippo is an intriguing dive site for recreational divers and tec divers alike. With a tank and howitzer guns on deck, and 5-inch guns in the holds, the Nippo is not to be missed.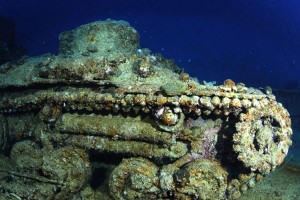 Heian Maru – The largest ship in the lagoon, the Heian, originally used as a cargo ship, is 165m (510ft) in length and lies on her port side in 34m (150ft) of water. Within her holds diver may find torpedoes, shells and even the occasional periscope.
San Francisco Maru – The passenger & cargo ship, weighing 5,831 tons, lays upright at a depth of 63m (195ft). Here divers can see the remains of many well preserved war-relics including three large tanks which rest on the deck at between 46-55m (150-175ft).
Gosei Maru – A submarine tender carrying torpedoes starts in just 3m (10ft) and drops to 33m (120ft) within which can be found many personal artifacts, serving as a reminder of those who lost their lives during the battle.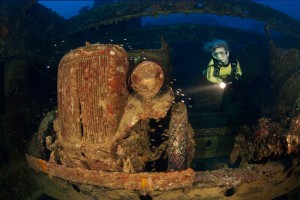 Rio de Janeiro Maru – lies on her port side at a depth of 34m (110ft) with holds containing numerous artifacts from bottles to guns. Once a luxury passenger vessel she was converted to a cargo carrier fo
r wartime and now provides divers with an easy exploration both inside and out.
Contact us for further information!
© photos courtesy of Super Jolly & Werner Thiele