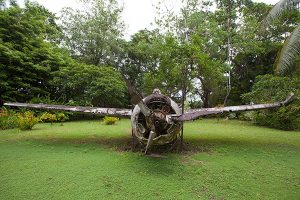 White Beach (Russell Islands) – This location was home to a major American supply base during WWII. At the end of the war, an artificial reef was created by dumping trucks, jeeps, tractors, bulldozers and large amounts of ammunition.
Custom Caves (Russell Islands) – These volcanic caverns provide amazing photography opportunities as the sun beams through the rock. Lobster, eels and rays can often be found inside the caverns, while the entrance is covered in soft corals and fans.
Mary/Mborokua Island – This island is notable for an underwater point that commonly hosts schools of barracuda and trevally. Explore the cuts and caverns behind Jack Point or the Coral Gardens right below the boat.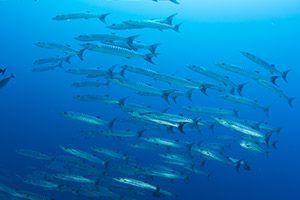 Kavachi Korner – All kinds of reef sharks are hanging out here, making for incredible diving. Listen for the rumble of Kavachi – an underwater volcano – that has been particularly active recently. Often, cracking and booming of explosions in the distance can be heard and felt underwater.
Mbulo Island – This island is surrounded by spectacular diving on all sides and six unique dive sites.  A gently sloping wall covered in fields of hard and soft corals invites you for a lazy drift along the bottom. Along the island, long swim-throughs in volcanic lava tubes allow for amazing photography opportunities.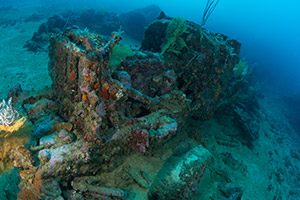 WWII Wrecks:
Tulagi (Florida Islands) – The Japanese Mavis Seaplane that sunk during one of the battles in WWII. In general, the Florida Islands are known for some of the most amazing WWII history wreck dives; the heavy cruiser USS Minneapolis and minesweeper/submarine chaser RNZN Moa.
Around Honiara – Three Japanese ships (2 cargo ships and an attack transport vessel) ended up on the beach, after which they were called: Bonegi I, II and III. The Japanese I-1 Submarine played a role in the Pearl Harbour attack before being moved to the South Pacific. She was damaged and forced to the reef by RNZN Moa in 1943. An exciting small wreck is the Flying Fortress, a B-17 airplane.