Rangiroa Dive Sites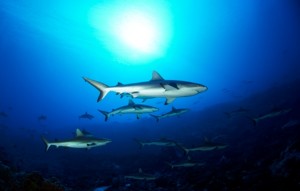 Tiputa Pass – Dropping in at the outer edge divers can hook in to the reef wall and watch the amazing shark display. Hammerheads, tiger shark and huge schools of grey reef shark are the main draw. Drift on the incoming tide through The Canyons, where schools of big eyes hang out and mantas can be seen hanging in the cross current. End the dive at Shark Cave where white tips typically come to rest. Other common fish species are grouper and Napoleon wrasse.
Tiputa Reef – On the ocean side of the pass the reef plateaus out at 20m into a magnificent coral garden. Schools of barracuda, turtles, white tip sharks, small wrasse and many colourful reef fish species can be seen. Mantas put in an occasional appearance, bottle nose dolphins too.
Deep Blue – Or simply "The Blue" is the deep water on the ocean side of Tiputa Pass. Here we drop divers directly from the boat to descend to 20m and hang in the blue as the sharks are tempted up to the shallower depths by dropping stones. Expect to see grey reef, silky and silver tip sharks as well as bottlenose dolphins.
Nuhi Nuhi – A shallow coral garden where angel fish, butterfly fish, anthias and all manner of small creatures can be spotted. Look out for leaf fish.
Fakarava Dive Sites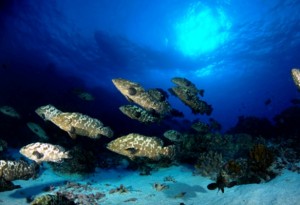 Garaue Pass – The northernmost channel of Fakarava Island and arguable the best site in the region for consistent shark sightings. The pass itself is 1600m wide and should only be dived at slack water due to the very strong currents. Starting at the outer wall we encounter the huge "wall of sharks" where hundreds of greys congregate. Black tip, white tip, hammerhead, tiger, silky and oceanic white tip are amongst the other species seen. Napoleon wrasse, surgeon fish and the typical schools of big eyes and yellow snapper swarm over the reefs, joined by turtles, morays and lionfish. In June and July, large numbers of grouper aggregate to spawn, a truly spectacular sight. Manta rays also visit.
Tumakohua – The southern pass of Fakarava is just as dramatic as the north, though only 200m across, it can be dived with both incoming and outgoing tides. Big schools of grey reef sharks can be seen in the deeper water whilst along the shallower reef black tips dart about. Manta rays and leopard whiprays are also frequently seen.
Maiuru – A submerged plateau on the outer edge of the pass, levels out at 18m into a lovely hard coral garden. At the 'drop off' you can encounter shark activity, whilst over the reef paddletail snapper and barracuda form large schools. Manta rays and eagle rays come by for cleaning and a quick meal and there are plenty of smaller creatures including nudibranchs and crabs to spot amongst the corals and sponges.
Ohutu – The second plateau starts at 12m  and drops to 30m with vibrant corals this is a superb place to watch manta rays.
Restaurant Pier – This shallow site is perfect for an afternoon dive where schools of snapper, black tip reef sharks and Napoleon wrasse are common with a stunning atmosphere for photography.
Apataki Island Dive Sites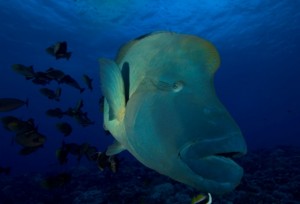 Tehere Pass – The strong currents through the pass mean divers can literally hang like a flag in the breeze! Reef hooks are essential if you want to stay and enjoy the hundreds of grey reef sharks hunting on fusiliers. Tuna, dolphins and swordfish can also be seen. The seabed and wall is more rubble than coral reef so simply drift in the current and enjoy the large pelagics.
Pakaka Pass – A more gentle drift than the Tehere Pass brings you through a pristine coral garden with table and staghorn corals. Silver tip and black tip reef sharks are seen darting in about the shallow corals, whilst numerous eagle rays are frequently sighted.[/toggle]
[toggle title="Toau Dive Sites"] Otugi Pass – The 400m wide channel is best dived on an incoming tide for the schools of grey reef sharks and silvertips.
Teahuroa – The outer reef wall is where huge schools of snapper congregate. Reef sharks, Napoleon wrasse, barracuda, surgeon fish and big eyes join them, whilst manta ray sightings are possible too.
Tikehau Island Dive Sites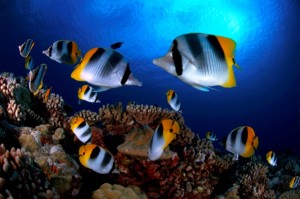 Tuheiava Pass – A channel dive providing predictable encounters with grey reef and white tip reef sharks, schooling snappers in huge numbers and dolphins. Turtles and solitary barracudas are also seen.
The Shark Hole – Diving down a vertical break in the reef brings you through schooling sharks onto even bigger schools of snapper. The archway at 50m is adorned with anemones.
The Old Pearl Farm – is THE place for watching mantas as they come to the reef for cleaning.
Kauehi Island Dive Sites

Outer Wall – The sloping outer wall of Kauehi Island is encrusted with huge hard coral formations and sponges. Butterfly fish, surgeon fish, banner fish and snappers all form large schools over the reef. Puffer fish, morays, tuna, barracuda, wrasse and lionfish are a common sight, whilst mantas, grey reef shark, eagle rays and the occasional hammerhead make up the larger visitors. Great for spotting leaf fish and nudibranchs.[/toggle]
[toggle title="Manihi Island Dive Sites"]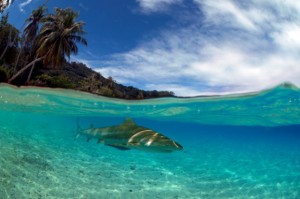 Tairapa Pass – Drift through the shallow channel at incoming tide for a spectacular view of reef sharks, Napoleon wrasse, manta rays and eagle rays. Jacks, triggerfish, moray eels and grouper are also amongst the common visitors.
The Circus – Dependent on currents this is a superb spot for consistent sightings of manta rays. Wathc as the graceful mantas come for feeding and cleaning. The visibility can drop to just 10m due to the plankton rich waters.
The Drop Off – On the Southwest of the Tairapa Pass this stunning wall drops to over 1500m . We of course don't dive that deep! Staying at an average of 20m we encounter many white tip, black tip and grey reef sharks, large schools of tang and triggerfish and plenty of snappers.
West Point – This gentle dive with less current than at the channels, great for turtles, black tips, barracudas and groupers.